April 26th, 2010
Coming off a win and first title defense on APRIL 24th 2010 at the ARCO ARENA in Sacramento California against Donald " Cowboy " Cerrone , Ben " SMOOTH " Henderson finished the fight in the first round via guillotine choke. Congrats to the winner and a man whom believes "I can do all things through Christ who strengthens me." Philippians 4:13 Not only does he believe in it, he always says it after his fights. "CAN I GET AN AMEN?"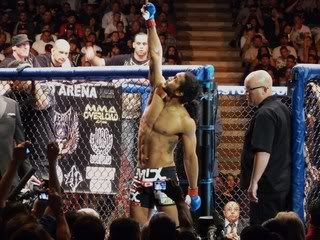 Bio & Pictures of Ben " Smooth " Henderson are from his website www.Smoothben.com click link to Join

Ben Henderson is a dynamic fighter who lives a life of Zen when he is not defeating opponents. In his time off you will find him in the library reading books and training his mind.
Henderson lives a clean; faith based life and is about as kind and gentle as they come outside of the octagon.
He is the kids BJJ instructor at The LAB MMA and has not let the fame of fighting for the WEC affect him. However, once fight time arrives, Henderson channels the full rage and fury of four fighters with an attitude that lets his opponent know that he came to win and will succeed at all costs. Ben is an amazing striker, grappler and all around solid athlete. With a black belt in taekwondo and being a collegiate level wrestler, it is clear that Ben Henderson is a force to be reckoned with.